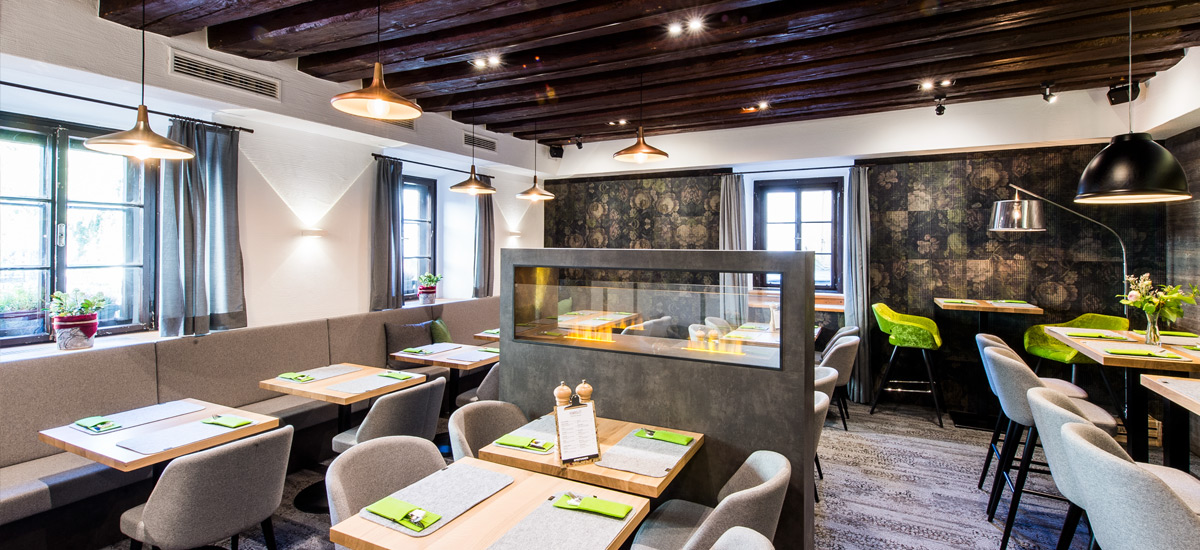 humboldtstubn_restaurant_bar_karte
humboldtstubn_restaurant_bar_karte - copy
Organic Restaurant since September 2018
🗝MONDAY CLOSED
🍴Restaurant & Bar
🌱Naturally regional
🍲Clean Eating
🍸Regional Mixologist
🗝TUESDAY-FRIDAY 10:30-22:00
🗝SATURDAY & SUNDAY 10:00-22:00
(hot meals until  21.15 hrs)
Gstättengasse 4
5020 Salzburg
OUR PHILOSOPHY – YOU ARE WHAT YOU EAT
We cordially welcome You to the Restaurant Humboldt, where naturalness is found in each and every aspect of our philosophy. To guarantee this we (only) take domestic products and resources as well as the variety of the four seasons into consideration when selecting and preparing our meals. It is in our best interest to pay our cooperating farmers, beekeepers and growers a fair price to ensure that our utilized products and ingredients come from an equitable attitude and peaceful livestock keeping. The organic origin and subtle contact with these commodities are our purpose and aspiration. We aspire to create a warm and welcoming atmosphere, to occupy ourselves intensely with our products, to come up with fresh and new ideas as well as to pay our employees a fair wage.
Our restaurant wishes to serve as a stage for a biodynamic and holistic lifestyle, which is why it is always a pleasure to meet impressive people and their products.
We wish You a peaceful and restorative break at Humboldt and kindly ask You to share Your thoughts and recommendations with us.
To Your health, enjoy Your meal.
(Our dishes are free of nitrite salting mix, refined sugar, citric acid, glutamate and other flavour enhancers)
ORGANIC-RESTAURANT HUMBOLDT
Our restaurant wishes to serve as a stage for a biodynamic and holistic lifestyle, which is why it is always a pleasure to meet impressive people and their products.
WHERE DO WE GET OUR INGREDIENTS FROM?
VEGETABLES
Ökohof Feldinger, Wals bei Salzburg, Biohof Achleitner, Eferding & Urban Roots, Salzburg
DAIRY PRODUCTS
Berchtesgadener Milch (Demeter Produkte)
Rupp Bio-Bergkäse, Pötzelsberger Dorfkäserei, Hofkäserei Mattigtaler
Seegut Eisl (sheep's milk products & ice cream)
BREAD, BREAD CUBES & CRUMBS
Wolfgruber Demeter-Bäckerei, Anger
FLOUR AND GRAINS
Spielberger Mühle, Chiemgauer Mühle (Demeter Urgetreide)
SEASONINGS
Sonnentor, Lebensbaum, Österreichisches Steinsalz
VINEGAR AND OILS
Beutelsbacher, Voelkl, Byodo, Bio Planete, Naturata
EGGS
Kastners Bio-Eier, Bernhard & Nicole Leitner, Anif
MEAT & FISH
Bio Fleischhandel Burgstaller, Bio-Fischzucht Krieg, Fischerei Ausseerland, Lungaugold
APPETIZERS
BEEF TATAR
with yolk, shiitake mushrooms & gin mayonnaise
15,90
BEEF TATAR small portion
with yolk, shiitake mushrooms & gin mayonnaise
 13,90
PUMPKIN VARIATION (v)
Pumpkin puree, braised pumpkin & sheep cheese
10,50
MARINATED CHAR
with parsnip puree & beetroot-tartare & -gel
15,50
SOUPS
HOMEMADE ORGANIC BEEF BROTH (og)
with sliced pancake
4,50
with cheese-dumpling
5,50
SOUP POT WITH ORGANIC BEEF (og)
served with beef, root vegetables, spelt-
noodles
6,90
PUMPKIN CREME SOUP (v)
with pumpkin seed oil

 5,80
MAIN DISHES
CURRY BOWL (og, v, vg)
with chard, couscous & nuts
12,90
HUMBOLDTS SUMMER-BOWL (og, v)
with smoked char, curry couscous, seasonal mushrooms & pumpkin
16,90
PASTA OF THE WEEK
(og, v)
11,40
with fillet of beef stripe
17,40
with pike-perch fillet
19,40
CHEESE SPAETZLE (og, v)
with fried onions & salad
12,40
HUMBOLDT-SALAD with nuts (og)
8,80
with fillet of beef stripe
 14,80
with fillet of char
16,80
with cheese dumpling
 11,80
AUSTRIAN TAFELSPITZ (og)
boiled beef with roasted potatoes, baby spinach, chive sauce & apple horseradish

17,90
WIENER SCHNITZEL (ORGANIC VEAL) (og)
with parsley potatoes and cranberry-jam
22,90
PURELY FROM THE AUSSEER LAKE
with grilled vegetables, baby potatoes & garlic herb butter (og)
19,50
FILLET OF BEEF 200g (og)
with sweet potato puree, seasonal mushrooms & gravy
36,50
VEAL-GOULASH (og)
with spaetzle
15,90
GRILLED CHICKEN BREAST
with curry-lime-mayonaisse & wedges

13,90
DESSERT
SCOOP OF SHEEP ICE CREAM
vanilla, walnut, poppy-seed
2,40
CHEESCAKE
with poached peers & caramelized nuts
7,90
WARM CHOCOLATE CAKE
with sour cherries & crème anglaise
6,90
VANILLA PANNA COTTA
with blueberry roast & meringue
5,90
(o) organic (d) demeter (v) vegetarian (vg) vegan
To receive information about allergens please ask our waiters and waitresses.
LOCATION
BOOK ONLINE
OPENING HOURS
🗝TUE-FRI 10:30-22:00
🗝SAT & SUN 10:00-22:00
🗝KITCHEN UNTIL 21:15
🗝TAKE AWAY 10:00-21:30